Looking for a way to make veggies less boring? All you have to do is roast them in a bunch of fat, some fresh herbs and a little bit of honey.
No joke it's that easy. I'm always looking for ways to minimize my time in the kitchen and roasting veggies is the easiest way to do that. I prefer a mix of broccoli, cauliflower and carrots. Now you can use fresh if you want to, but honestly I'm too lazy to cut all the different ones and all that, plus flash frozen veggies tend to be fresher because they are frozen right after they're harvested. I call that a win win, but the choice is up to you. The cook time just may be a little less for fresh veggies over frozen. Costco has a pretty good selection of huge bags of frozen veggies. That's where I tend to get mine or if I run out I just get them at Stater Bros.
Pair these veggies with the protein of your choice and you'll have about 10 minutes total kitchen time and then all you have to do is wait for your veggies to roast to perfection. While they're roasting feel free to play with your kids, run around with the dog or take a nap.

Fresh herbs

Before the oven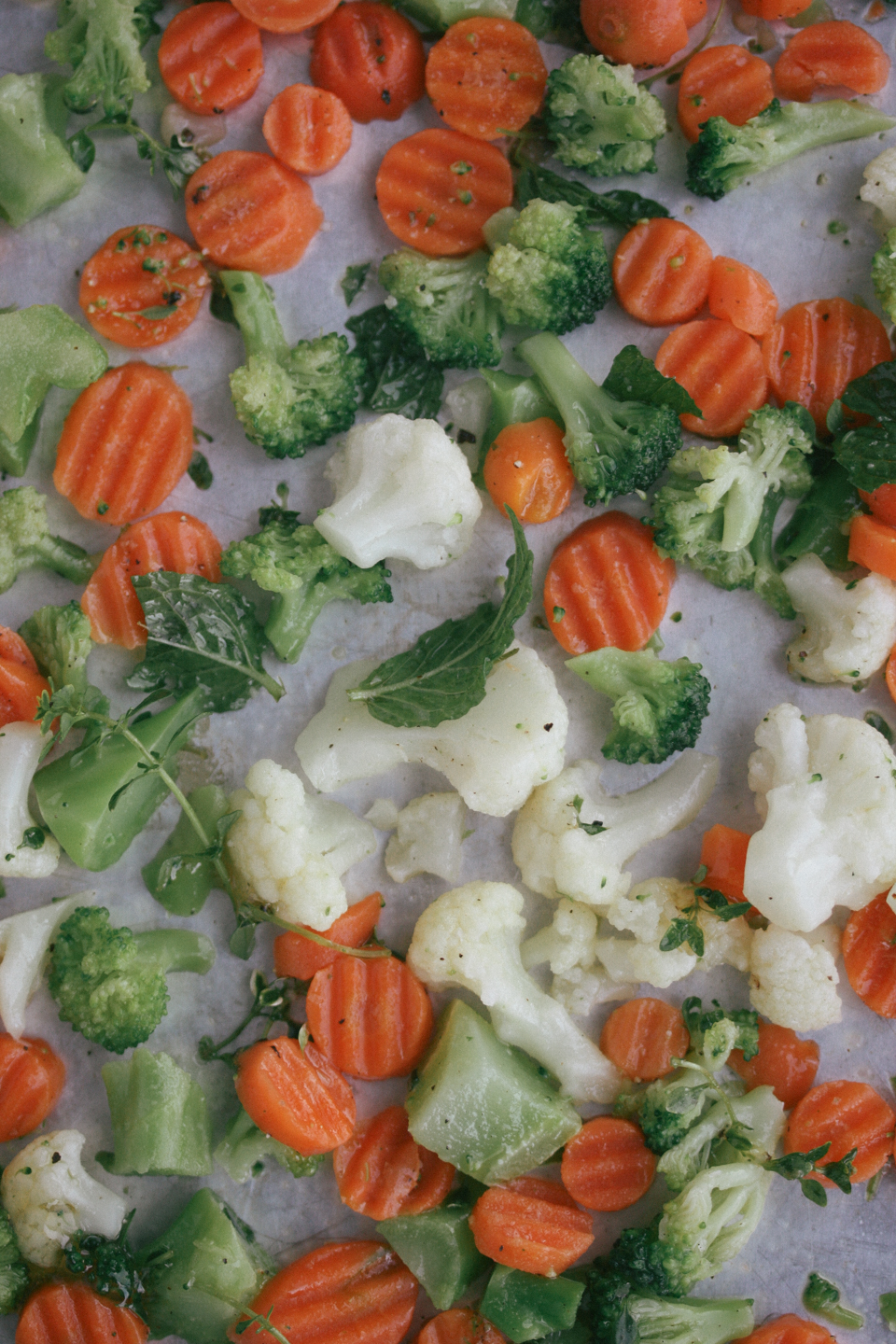 Close up with fresh herbs

After the oven

Crispy & sweet
Easy Honey Roasted Vegetables
2016-03-21 20:32:38
Ingredients
1lb mixed fresh or frozen veggies (I prefer the ones with broccoli, cauliflower and carrots)
1/2T honey
3T extra virgin olive oil
1/2t Kosher salt
1/4t pepper
Handful of fresh thyme (or 1/2t dried thyme)
Handful of fresh mint (or 1/2t dried mint)
Instructions
Preheat oven to 425.
Pour veggies onto baking tray. Measure out (or eyeball it) and pour all ingredients onto veggies and mix it all together. Try not to crowd the veggies or else they will take forever to crisp up.
Roast in oven for 35–45 minutes depending on if they're fresh or frozen. You really just need to keep watching them and pull them out of the oven when they are at your desired crispness. I like to stir them only once throughout the roasting.
Once they're done, pull them out and serve with your protein of choice. Enjoy!
That's So Primal https://www.thatssoprimal.com/