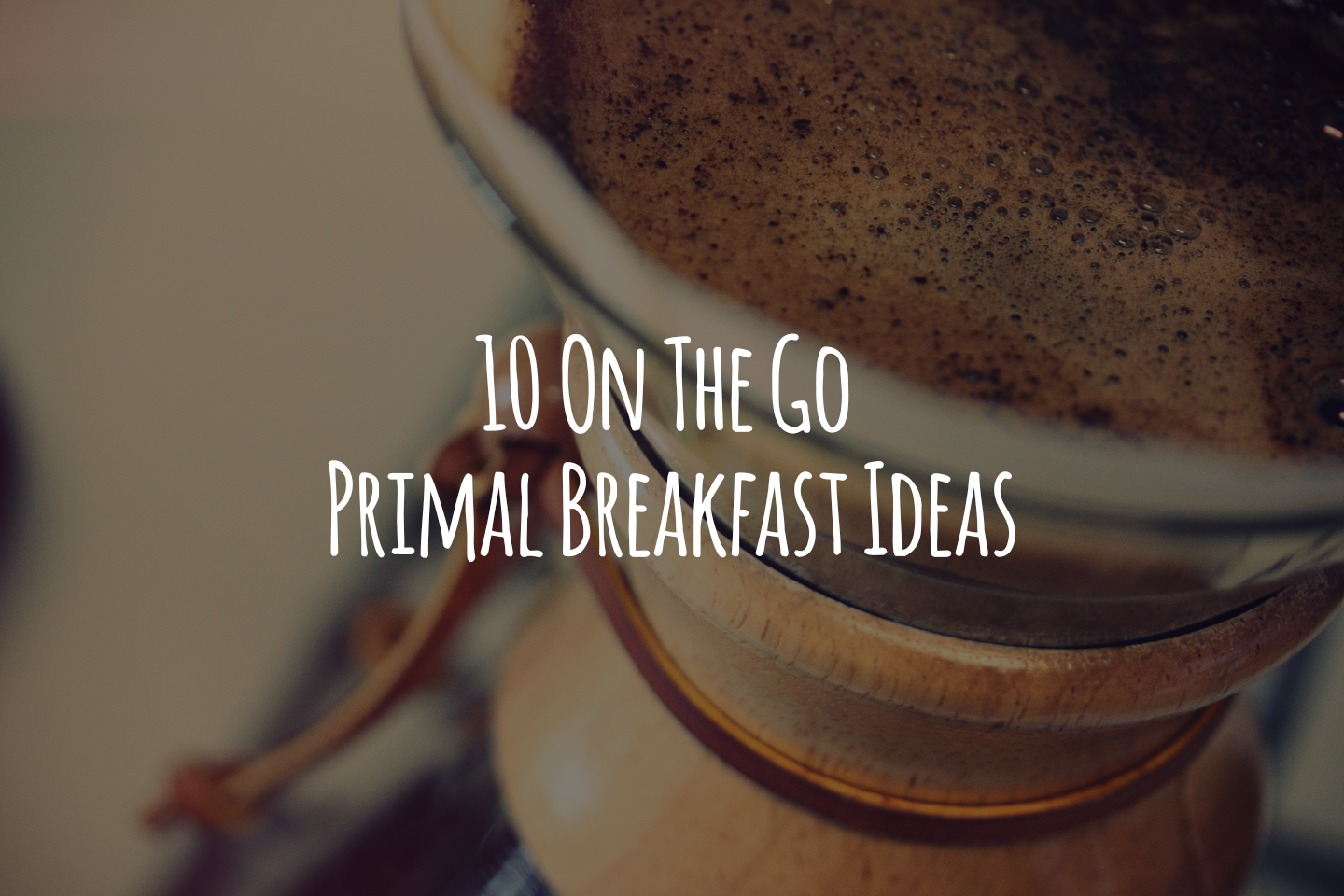 Getting out the door quickly in the morning is already a challenge. Then if you try to add breakfast in the mix it becomes even more of a challenge. Then if you try to add a healthy breakfast in the morning it becomes even more more of a challenge. I think it's important to understand what I mean by healthy breakfast. So often people think a muffin or pastry or some other glucose spiking carb fest is what we need for breakfast. Contrary to conventional wisdom, a whole grain muffin isn't a healthy breakfast option. We need protein and fat to get us going in the morning, but we need something that we can whip up in a couple minutes, otherwise we will be grabbing for the doughnuts when we arrive at the office. Check out some quick on the go breakfast ideas below.
1. Bacon & Eggs
I know you may think that this takes longer than a few minutes but it can actually go pretty quickly. The key is to bake your bacon the night before or on Sunday and save it for using throughout the week. If you do this you can whip this up pretty quickly, especially if you follow Gordon Ramsey's way of making scrambled eggs. Just throw some butter and eggs in a skillet, scramble for a couple minutes and toss the crumbled bacon in near the end. Once it's done, throw it in a to go cup and eat it while you're driving. Maybe not the safest option, but it's better than getting type 2 diabetes from eating a muffin every morning.
2. Primal Fuel Shake
This is an even faster option. I like this whey protein because it contains fat in it as well as protein. Most whey proteins use some fake fat instead of a real fat like coconut. Toss a couple scoops in a shaker like this and you're good to go.
Buy Primal Fuel.
3. Exo or RXBARs
I've already written about both of these here, here and here. These are both great options for breakfast on the go because they have a good amount of fat and protein. Pair this with some coffee and you're ready to go all morning long.
Buy Exo Bars
Buy RXBARs
4. Primal Egg Coffee
I saw this on Mark's Daily Apple awhile ago around the same time people were doing bullet proof coffee and I think the idea is genius. Basically you mix 3 egg yolks with your coffee and then add a little sweetener like stevia or honey. It's like bulletproof coffee plus a little protein kick. Remember though if you do this to use pastured egg yolks for less of a risk of food born illness or salmonella.
5. Bulletproof Coffee
Speaking of bulletproof coffee… So you don't always need protein to get going in the morning. Sometimes all you need is a good dose of fat and caffeine. You can read more about bullet proof coffee here.
6. Hard Boiled Egg
Prepare these Sunday and you're good to go all week. You'd even be further ahead of the game if you pre peel them so you can eat them in the car.
7. Jerky
This is like the ultimate on the go meal. You can always make your own or pick up some good brands like Krave at your local gas station or Target.
Buy Food Dehydrator
8. Chia Flax Hot Pudding
My wife and I make this a lot for our daughter, but it's perfect for you to whip up in less than 5 minutes and head out the door. I do have version of this recipe that I'm gonna post in the near future that has cricket flour as the protein source, but for now you can find the recipe I follow here.
9. Frozen Coconut Macadamia Bar
I've made this a few times and man are they good. They have a nice crunch and a good dose of fat. A little messy because they are frozen but I ended up eating these so quickly that it didn't matter how messy they were. Find the full recipe here.
10. Your Own Body Fat
Now I'm not talking about cannibalism, I'm suggesting that you practice intermittent fasting from time to time. You don't always have to eat breakfast. If you're body is a fat adapted, your body can switch to using stored body fat for energy instead of relying on sugar (carbs). It's a common misconception that we need breakfast and that it's the most important meal of the day. It's not the most important meal of the day.
---
There it is folks. Hopefully these 10 ideas will help you out in the morning to steer clear of the muffins or doughnuts at the office. If you arrive to work full and energized you've already won the battle!