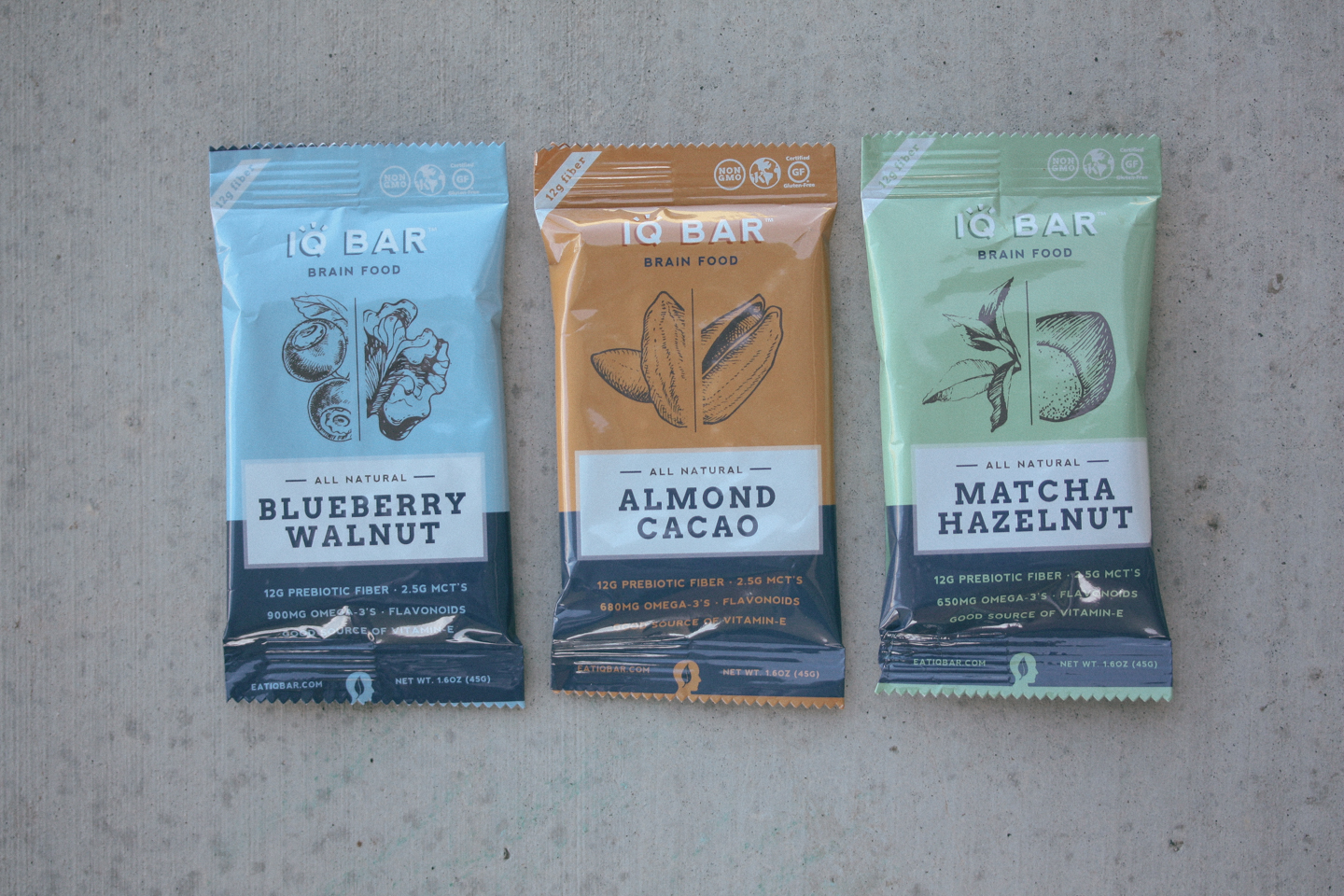 I'm always on the lookout for a good energy bar. I've written about many great bars I've found over the last couple years ranging from cricket protein bars like Exo or Chapul, or egg white protein bars like RXBARs, or even typical animal protein bars like Wilde. There are so many bars coming out nowadays that are geared towards Whole30/Paleo/Primal people and it can be pretty exhausting to decide on which bar to spend your money on. The most recent bar I saw when I was on Instagram was actually for a crowdfunding campaign for a bar call IQ Bar.
The image and description grabbed my attention so I quickly went over to their page to read all about these new bars. What I read really intrigued me so I immediately reached out to the owner to see if I could do a review of their bars and he was more than willing!
As always we will be reviewing these bars for: Nutritional Profile, Affordability, Taste. Let's get to it!
Nutritional Profile

Now when it comes to what these bars are composed of, these guys really get it. I can't even attempt to go into the science of exactly how great these bars myself, because their crowdfunding page really breaks down the nutritional information for each of these bars and what their goals were. In a nutshell it's this: too many bars are full of sugar that lead you to a sugar crash not too long after you eat them – but IQ Bars are low carb/high fat (YES!) that will provide you with enough energy without the sugar crash to follow. Please turn your attention to their video that explains their bars and goals in more detail:
So these bars sound pretty great right? That's because they are. The problem I have with all the Larabar or Nutri-Grain type bars is that there is just way too much sugar and not enough fat! We need more fat, and that's what these bars provide – more fat and less sugar. One thing to notice about these particular bars that's different from the rest of the bars I've reviewed is that they're not "protein" bars. That's ok though because that's not their market – their market is to go against what I just mentioned was the high carb/low fat bars. So if you're in need of protein in addition to these bars maybe hit up a hard boiled egg or something.
Let's take a look at the highlights of these bars nutritional breakdown as listed on their site:
IQ Bars are the first and only nutrition bars optimized for the brain. They're drastically different than other bars for three main reasons:
IQ Bars are low in net carbs (~8g/bar), high in healthy fats, and packed with 5 brain-critical nutrients.
Our ingredient list is short, and contains 100% all-natural inputs. No ingredients that start with "X"!
IQ Bars comply with vegan, Paleo, Whole 30, low-carb, and kosher diets, and have ZERO grains, gluten, GMO's, dairy, soy, or added sugar.
Now these are just the highlights of the nutrition in these bars, they have even more complex science on their indiegogo page that goes way more into detail of why low carb/high fat is the preferred nutritional profile for our bodies. I've written about how this fits into my primal lifestyle here as well.
Let's look at IQ Bar Blueberry Walnut compared to say a Larabar and something even worse like a Nutri-Grain bar:
IQ Bar Blueberry Walnut
Total Fat: 14g
Total Carbohydrate: 21g (Dietary Fiber 12g, Sugars 8g)
Protein: 4g
Ingredients: Blueberries, Walnuts, Coconut Flakes, Sunflower Seeds, Almonds, Dates, Cacao Nibs, Cacao Powder, Chia Seeds, Chicory Root Fiber, Pink Himalayan Sea Salt
Larabar Blueberry Muffin
Total Fat: 8g
Total Carbohydrate: 26g (Dietary Fiber 3g, Sugars 17g)
Protein: 4g
Ingredients: Dates, Cashews, Unsweetened Blueberries, Blueberry Juice Concentrate, Lemon Juice Concentrate, Vanilla Extract.
Nutri-Grain Blueberry
Total Fat: 3g
Total Carbohydrate: 24g (Dietary Fiber 3g, Sugars 12g)
Protein: 2g
Ingredients: Filling (High Fructose Corn Syrup, Blueberry Preserves [High Fructose Corn Syrup, Blueberries], Corn Syrup, Glycerin, Fructose, Sugar, Maltodextrin, Water, Natural and Artificial Blueberry Flavor, Modified Corn Starch, Sodium Alginate, Calcium Phosphate, Citric Acid, Soy Lecithin, Xanthan Gum, Modified Cellulose, Sodium Citrate, Malic Acid, Red No. 40, Blue No. 1), Enriched Wheat Flour, Whole Oats, Sugar, Partially Hydrogenated Soybean and/or Cottonseed Oil, High Fructose Corn Syrup, Honey, Calcium Carbonate, Dextrose, Nonfat Dry Milk, Wheat Bran, Salt, Cellulose Gum, Leavening (Potassium Bicarbonate), Natural and Artificial Vanilla Flavor, Soy Lecithin, Carrageenan, Guar Gum, Zinc Oxide, Reduced Iron, Pyridoxine Hydrochloride (Vitamin B6), Vitamin A Palmitate, Thiamin Hydrochloride (Vitamin B1) and Folic Acid.
Now looking at just those labels really tells a story. What do we see? Well, we see IQ Bars are far superior nutritionally to the alternatives. Larabars have one thing going for them and that's that they use real food and their ingredients aren't weird, but they will still leave you possibly with a sugar crash after you have one. Then if you look at the Nutri-Grain bar it's absolutely embarrassing. They're just full of sugar, a ton of ingredients and low fat. Their own website even prides themselves on how low fat they are: Kellogg's nutri-grain cereal bars, blueberry is made up of low fat, whole grain oats, naturally and artificially flavored. All that really means is "these bars will leave you with a sugar crash after eating this low fat snack bar".
To really sum it up for the nutritional aspect of these bars is that they're far superior to anything sold in the stores today on the "energy bar" shelves and I can't wait to see these in stores all over the country (or world).
Affordability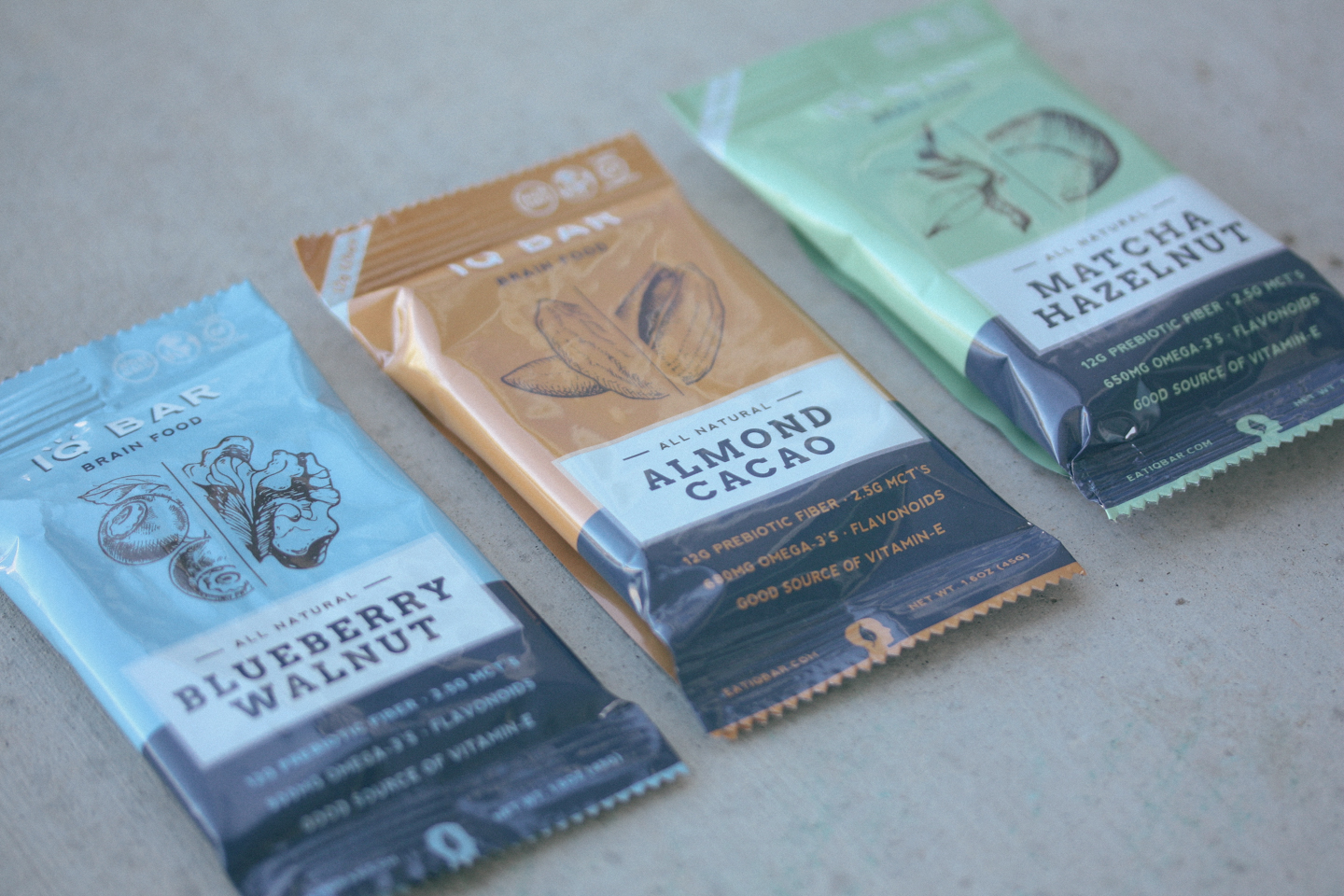 Now I normally compare products to one another based on their affordability but that's kinda hard to do this time around because these bars are only available on their crowdfunding pages. I will list the prices here just for consistency with the other reviews I've done, but maybe once these bars are more commercially available (hopefully!) I'll come back and update this section.
IQ Bar Blueberry Walnut
Price per bar: $2.66 (subscription)
Price per 12 bar box: $32.00 (subscription)
Ingiegogo Link
Larabar Blueberry Muffin
Price per bar: $0.99
Price per 16 bar box: $15.99
Amazon Link
Nutri-Grain Blueberry
Price per bar: $0.25
Price per 48 bar box: $12.00
Amazon Link
Ok now obviously the alternative is going to be cheaper but you know what? The 12 bar box price of the IQ Bars is exactly the same as my favorite protein bars Exo:
Exo Cocoa Nut
Price per bar: $2.66 (subscription)
Price per 12 bar box: $32.00 (subscription)
Exo Link
Sooo, that gives me hope that when the IQ Bars are commercially available I'll have no problem justifying the cost since I'm already acustom to paying that much for a quality product that will sustain me for hours on end.
Why are the other bars so cheap you might ask? Good question and one I've answered in other reviews but it's simple really – you're paying for quality, real, whole food ingredients. Nutri-Grain bars are cheap because they use grains and corn syrup. Larabars are getting down there in cost even though they use great ingredients because they're more widely available, driving cost down I'm sure, and because their ingredients aren't particularly expensive either. Albeit Larabars' ingredients aren't as inexpensive as Nutri-Grain's ingredients – their ingredients are the cheap of the cheap.
Taste

I'm so stoked that Will was able to send me some samples so I could really get a taste of what these bars have to offer. There are two things about IQ Bars that really stuck out and that I love: They're not too sweet and they're satiating. Which is the whole point. The perfect dose of fat to get you through an afternoon or morning, and low enough carbs to not give you a sugar crash. Now onto the taste!

IQ Bar Matcha Hazelnut
Very strong coconut flavor at the beginning. Then you get used to it and start noticing the other flavors. Super chewy and didn't hurt my jaw. Thank you God. I love RXBARs but literally my jaw is sore after I eat them. Not with these though. The texture was on point and the flavor was subtle but pleasant. Not too sweet but just enough little hint of sweetness for me. A little matcha at the end lingers in your mouth. Nice random chunks of hazelnut too that gave the bar a nice crunch.

IQ Bar Almond Cacao
Very nice chocolatey taste. Good texture with larger random almond chunks. Not too sweet, just the right amount of sweetness for me. Reminded me of just a really good chocolate cookie that was barely sweetened. Definitely left me feeling full after eating it. Subtle coconut flavor too in there.

IQ Bar Blueberry walnut
This one was probably my favorite. It has a very strong blueberry flavor, obviously. But not too overpowering. All these bars have the same level of sweetness, which I love. The flavor actually really reminded me of the flavor of the blueberry Exo bar albeit less sweet and less crickety flour taste. This bar really was satiating.
Conclusion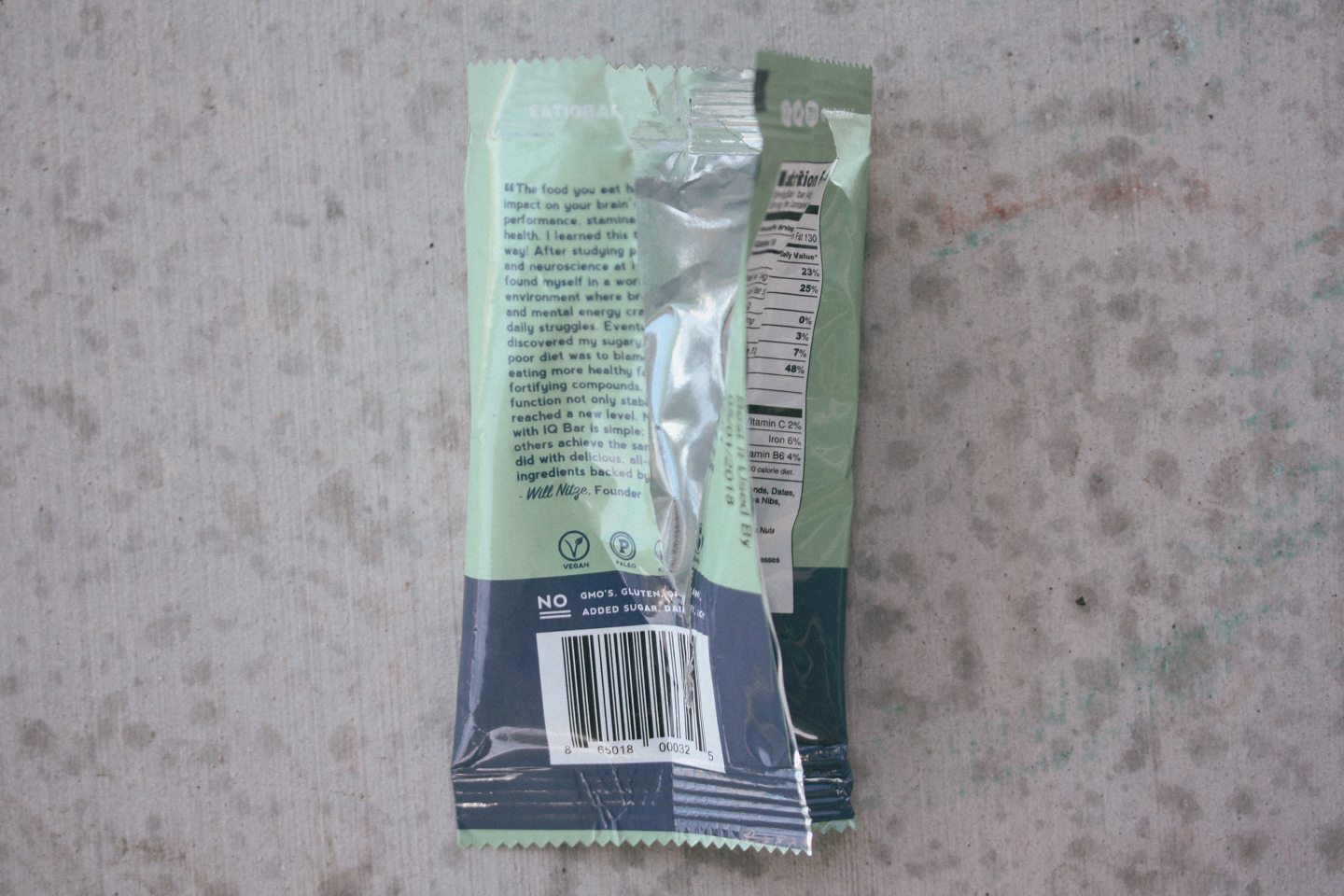 I see a near future where my pantry is full of boxes of my favorite protein bar Exo and my new next favorite energy bar IQ Bars. Allowing me the option of getting a more rounded meal replacement with Exo or allowing me to get a dose of long lasting energy via IQ Bars. I suggest you go back these IQ Bars right now while you still have the chance and like I've said multiple times I can't wait until I can pick a giant pack of these up at Costco. Thanks Will for giving me a sneak peek at these amazing energy bars!